When you assess Bitcoin security options, you will discover that higher security limits your spending flexibility.
For instance, storing your valuable bitcoins in a paper wallet, which is considered among the most secured, means less accessibility to the bitcoins at the same time.
And Here Comes The Trezor One
An offline Bitcoin hardware wallet is the best way to describe Trezor. The physical device stores your private keys safely and allows you to sign a transaction offline, without utilizing your PC, which is connected to the internet in most cases.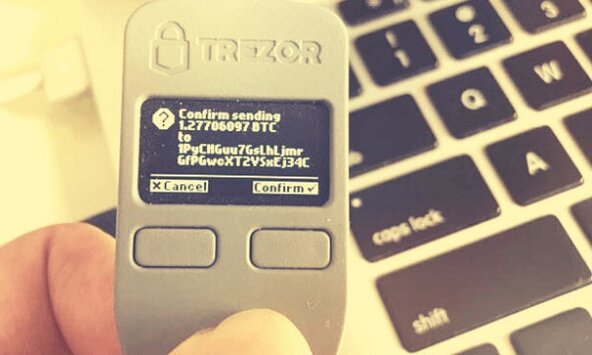 Trezor provides you with several advantages, as it can be used as a secure offline storage unit, and lets you send your bitcoins and other supported cryptocurrencies easily. The Trezor unit is small enough that it can be kept in your pocket or attached to your keychain.
As such, you can keep your cryptocurrencies stored offline on Trezor and send them at your discretion after connecting any computer to your Trezor device.
Like your keyboard or mouse, Trezor makes use of a limited USB connection. A mouse can indicate to the PC where the pointer is located, but the PC can't physically move the mouse. Likewise, crypto transactions can only be signed from the Trezor to the PC and vice versa. As such, Trezor can be used safely even on infected and compromised PCs.
Installing your Trezor
Installing the Trezor is quite easy. Once you connect the unit to your PC, you need to open the official Trezor website that will guide you to install the Trezor extension or bridge. Once installed, follow the guided instructions.
Set-up a PIN Code
Instead of entering the seed every time you want to access your funds, the PIN code, which is easier to recognize is set to access the device. It's advisable to choose a PIN code that has at least 6 digits and doesn't repeat any single digit.
The cool thing about Trezor's security is that it shuffles the digits randomly, so even if your PC is hacked, the hacker won't be able to trace your PIN code.
Backup Your Seed Phrase
The seed is Your master Private Key: Afterward, you'll be asked to write down your recovery seed.
The seed is a set of 24 words (12 words in Trezor Model T) that will allow you to access your bitcoins if your Trezor gets lost or stolen. Write down those words in order.
While you can use the backup paper labeled by Trezor, we would recommend to divide your seed phrase into two parts and store each part in two copies in two different random places. Remember, if anyone gains access to your phrase – your bitcoins can be stolen. Please proceed with more general and wallet security measures.
How to send Bitcoin using your Trezor One device?
Using the Trezor is very simple, as mentioned above, and it is done while your device is connected via USB, and you are on the official Trezor website.
Sending Bitcoins couldn't be easier, just create a new transaction via the Trezor extension, once confirmed, it will appear on the device for final physical confirmation.
The device has two physical buttons. To confirm the transaction just press on the approval button and that would sign it safely. More than that, Trezor can communicate with Mycelium Android's wallet, instead of using a PC. A video guide about the integration with Mycelium can be found here.
Leading cryptocurrencies supported by Trezor One
BTC
ETH & ERC20 tokens (such as LINK, USDC, MKR, OMG and more)
USDT
BCH
LTC
XLM
ETC
DASH
ZEC
NEM
DOGE
DGB
DCR
QTUM
BTG
LSK
For the full and up-to-date list, click here.
List of Compatible Wallets and Services
MyEtherWallet (for ETH and ERC-20 tokens)
MyCrypto (for ETH and ERC-20 tokens)
Nano Wallet
Electrum-MONA
Electrum-XZC
Electrum-GRS
Electrum-NMC
Exodus
Bloks.io
Magnum
SimpleStaking
Znode Tool
For the full list, click here.
What happens when your Trezor gets stolen?
There are security measures in place that will stop people from stealing your Bitcoins. This is your PIN to access the wallet. However, this doesn't guarantee 100% protection, as there are ways to physically hack a Trezor.
In case you lost physical access to your Trezor, the best thing to do is to access your cryptocurrencies via another device, using the seed, which is the 12 or 24 words phrase. After gaining control, create a new wallet and transfer the funds as quickly as possible.
Is Trezor One Hackable?
One of the wonderful aspects of Trezor is that it doesn't require a password to access your account. Your Trezor device acts as your credentials. If someone can't tangibly access your device, there's no way they can access your coins.
Nothing is ever completely secure, but the Trezor is the closest thing to it. The newest security holes located in USB drives don't even apply to Trezor.
Phishing attacks are the only thing Trezor can't be safeguarded against. An individual may attempt to trick you into sending them Bitcoins from your Trezor. That, however, is a human error, rather than a device malfunction. Ensure that the individual you're talking to is legitimate to prevent such fiascos. For more details about potential Trezor dangers and how they are being handled, see Trezor's FAQ page, specifically their security threats section.
Follow this link to get your own Trezor.